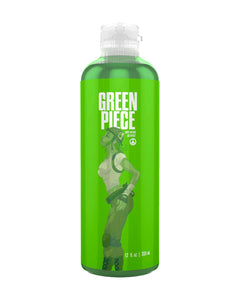 Green Piece Anti-Resin Activist Cleaner is a non-alcoholic glass cleaner that deploys the latest in environmentally-friendly resin-fighting technology. Made in the USA, this revolutionary cleaner will help protect your glass pipes from resin buildup without the use of any harsh chemicals. Give Green Piece a chance with this top-notch bong cleaner!
Product Highlights
Made in the USA by Need A Medic
Green Piece Anti-Resin Activist Cleaner
Glass Cleaner
High Quality Solution
Works Quick on Dirty Pipe Resin
Environmentally-Friendly
Chemical-Free
Product Specs

Product Instructions
Rinse contaminated area with hot water. Entirely submerge the polluted area. Soak for at least 4 hours and 20 minutes, shaking occasionally. Rinse and repeat as needed. Experience peace. 

CAUTION: KEEP OUT OF REACH OF CHILDREN AND PETS. Use only as instructed. HARMFUL IF SWALLOWED. If cleaner is accidentally swallowed, health issues may occur. If issues persist, call your local poison control center immmediately. Substance is FLAMMABLE. Keep away from heat and flames. Substance is an EYE IRRITANT. In case of contact with eyes, flush eyes with water repeatedly. If irritation does not subside, seek medical attention immediately. Anyone with sensitive skin should use proper protection and precautions when handling product.