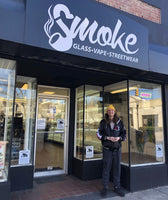 The Most Trusted Online Smoke Shop In The Game
We at Smoke Glass and Vape value one main thing above all else: customer experience. We opened our first store in 2016 with the goal of providing each and every customer that walked through our front door with the highest level of customer service and satisfaction. Since then, we've grown out to two more physical locations and, most importantly, to our online smoke shop.
Our goal has remained the same, though. Building our brand through our physical locations has given us advantages that other online head shops can't match. We talk face-to-face with our customers on a daily basis. We get to hear their concerns, their questions, their needs, and more. We've amassed a great amount of knowledge on how to best service our customers, and we've brought this knowledge to our online smoke shop.
Our stock is always affordable and varied. We carry the highest quality bongs, dab rigs, dab pens, CBD, hand pipes, rolling papers, heady glass, nectar collectors, cleaners, apparel, and a whole lot more. We're constantly adding more products to our stock, focusing on new items that are affordable, cool, and useful.
Looking at all the other online smoke shops, you'll notice one major thing in common: they're stale. They seem content to keep things just the way they are. But not us! Our pride in customer service also guarantees that we'll never stop trying to improve and innovate the experience of shopping on our website.
When you shop at Smoke Glass and Vape, you're going to get everything you need quickly, easily, and with the best customer experience in the business. Period!