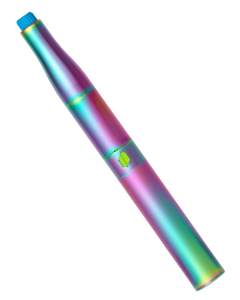 The most decorated electronic dab vaporizer pen in history - in an irresistibly iridescent colorway. The Puffco Plus Vision continues to be the peak of mobile dabbing technology. Every part of this innovative pen was created with a focus on immense functionality, down to the most minute detail. Let us explain!
The coil-less chamber sets the Puffco Plus apart from the rest of the pack. Instead of potentially burning your precious wax with the uneven heating of a coil, the pressure-sealed chamber of the Puffco Plus evenly heats your wax with ease. The chamber is easily cleanable and completely replaceable, so you don't have to buy a whole new unit if something happens to your pen. 
The mouthpiece, often overlooked by other pens, completes four different functions at once! It cleanly and comfortably delivers hits with ease, as one would expect. It acts as a carb cap, keeping each of your hits tightly contained inside the chamber. This snug seal also allows it to act as a splash guard. The most premium of all its features, though, is the built-in loading tool, which is removable for packing your chamber and cleaning the unit. Like the chamber, the mouthpiece is also replaceable.
And then we get to the button, which does a whole lot more then just deliver power. One press and hold delivers delicious draws. Click twice, and you'll enter Puffco's unique sesh mode. It continuously heats your unit for 12 seconds, which is the perfect amount of time for a nice full dose of your vaporized oil. Four presses of the button will change the Puffco Plus between it's three temperature settings, so you always have the best heating setting for your needs. Click it five times to lock and unlock your pen, preventing any accidental discharge in pockets, purses, and backpacks. One little button, so many possibilities. 
Simply put, the Puffco Plus Vision is the most functional (and stylish) dab pen money can buy.
Tip: Looking for something with a little less color? Check out the Puffco Plus Black.

Product Highlights
For Use with Dabs

Award-Winning Electronic Concentrate Vaporizer Pen
Coil-Less Ceramic Chamber for Even Heating
Removable Mouthpiece with Three Additional Functions:

Built-In Carb Cap
Built-In Splash Guard
Removable Loading Tool

Unique Sesh-Mode Functionality
Three Temperature Settings
Precision-Machined Alloy Housing
Fingerprint-Resistant Coating
Wireless
Highly Portable
Button Activated
Ability to Lock and Unlock
Beautiful Iridescent Colorway 

Charger Included
Product Specs

| | |
| --- | --- |
| Charge Time | 35 minutes |
| Average Battery Life | 30 Sessions |
| Average Heatup Time | 12 seconds |
| Height | 5 in / 12.7 cm |
| Diameter | .6 in / 15.24 mm |
WARNING: Intended for adult use only. Keep out of reach of children and pets. Not intended for nicotine or tobacco use. For use with legal concentrates only.
NOTICE: Puffco has unfortunately decided to phase out this product. In an effort to continue to provide our customers with this high-quality product for as long as possible, we have utilized our partnership with Puffco in order to continue to stock this product in the form of its individual parts as opposed to the full kit in box. Going forward, any orders of this product will contain the main unit and the charger, but may not include the grips, dab swabs, or warranty. If you have any questions or concerns, reach out to us at info@smokeglassvape.com. Our #1 priority has always been and will continue to be providing the highest level of customer service!